Spot-on Sundial in Stainless Steel
An interesting dial which gives excellent reflections in the mirror-finished stainless steel, and, with the contrasting matt circle on which the hour lines are shown, gives the appearance of "floating on air"
Two models, 30 cm. square and 15 cm. square, have been added to the 42 cm. square model described on this page. The 30 cm. square model is similar in all respects except the size and price (£600 including engraving and delivery) to the 42 cm. square model described here. For details of the 15 cm. square model, designed specifically for very small gardens, patios, or balconies, click here
Please also see our new page of stainless steel sundials in their settings which shows pictures of Spot-On stainless steel sundials in a wide variety of settings in London, Texas, Sussex, Wiltshire, Cumbria, and Northumberland
Stainless steel sundials are sold by our associate organisation, Piers Nicholson Sundials; full details are given on their website www.sundials.info
Summary of our stainless steel sundials
Product
Dimensions
cm. (ins. approx)
Weight
kg (lb. approx)
Suitable for:
Latitude range
Price (£)
despatch
42 cm Stainless
Spot-On Sundial
41.8 x 41.8 x 21.5H
16.5 x 16.5 x 8.5H
12 (28½)
any latitude;
custom-designed
£1350 + p&p
incl. engraving
4 - 6 weeks
24 cm. Stainless
Spot-On Sundial
24 x 24 x 14H
9 x 9 x 5H
9 (20)
any latitude;
custom-designed
£660
4-6 weeks
It is exactly noon by the sun, and the unique line of light appears for five minutes to tell you so.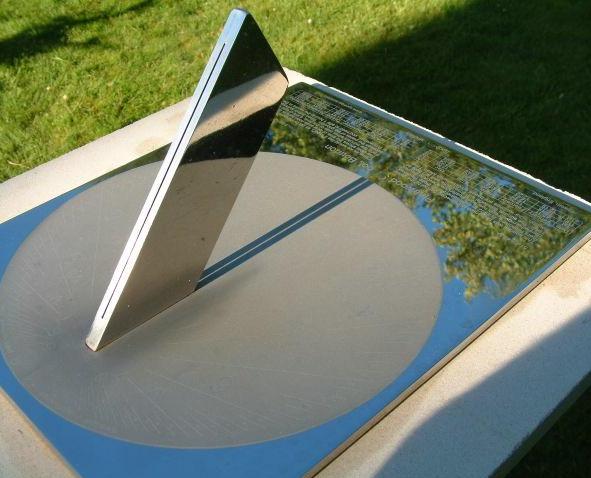 Note the clear shadow on the matt dialplate, and the crisp reflection of sky and surroundings on the mirror-polished surface (Production models of this sundial are 41.8 cm. square, and not rectangular as illustrated)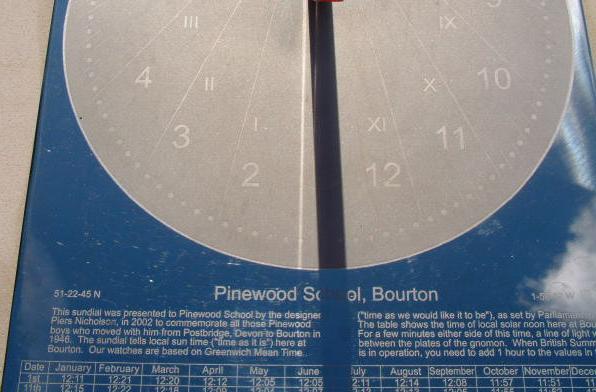 The 16.5 in. Spot On sundial in stainless steel is designed for the forecourts of offices and public buildings, for public open spaces, and for the larger garden. The dimensions of the dial are 41.8 x 41.8 cm, and it weighs 12kg (26½ lb)

These elegant and robust dials incorporate the split gnomon, so that every day at solar noon a line of light will shine through the gnomon along the noon line. The dial plate with 10 minute lines and 5 minute spots is matt, to ensure a really sharp shadow. The remainder of the dial plate and the sides of the gnomon are mirror-finished. This gives rise to some interesting reflections, both of the sky above and the near side of the matt dial plate, so that the gnomon from some angles appears to be suspended in space. There is a space for special engraving in the 8 x 34 panel at the foot of the dial- plate - the engraving can incorporate mottoes, dedications, and information about the sundial, according to the choice of the client. Price £860 plus £20 p& p UK mainland This price does not include the plinth - the Queen Anne plinth illustrated from Haddonstone in Northamptonshire (01604 770711) and costs £159.00 delivered. Similar plinths are also offered by Redwood Stone in Somerset (01749 677777) You can click on each of the images on this page to bring up a full-size one if you wish

>If you would like to discuss with us the possibility of having one of these beautiful Spot-On Stainless Steel Sundials, please fill in the form below, and we will get in touch with you to discuss all the details with you. Thank you for your interest! Please be certain to fill in your name, Email address, and as many other fields as possible

Details

41.8 x 41.8 x 21.5 cm high
16.5 x 16.5 x 8.5 in. high
Weight 28½ lb. (12 kg)

£880 delivered mainland UK
Engraving included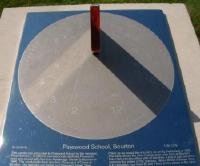 Make enquiries at hello@spotonsundials.com or visit the store at: www.sundials.info